Join Jasmine, Aladdin, Genie, the Magic Carpet and more on a
journey into another 'Arabian Night'!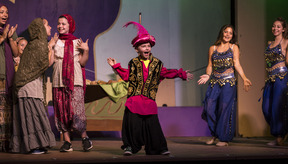 Aladdin- Vincent Fontenelli
Jasmine- Sierra Geoffrion
Genie- Amelia Rosen
Iago- Caroline Stanton and
Sara Heinen
Jafar- Michael Almeida
Magic Carpet- Lilliana Calipa
Razoul- Robert Fontenelli
Sultan- Curtis Rodriguez
Prince Baba of Ganoush- Jack Boucher
Prince Dahdu Rahn-Rahn- Bennett Malo
(The) Prince Formerly Known as the Artist and Guard-
Erik Wallin
Guard- Ethan Smith

Narrators- Matthew Segal, Jaelyn Oquendo, Emily Segal,
Ethan Berger, Jenna Vieux, Abby Giansiracusa, Kylie Block,
Paige Socol and Ciara Cuneo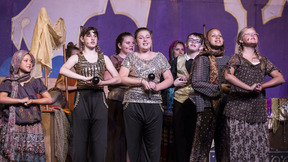 Townspeople-
Brianna Granchelli, Emma Joseph, Katja Kuittinen,
Dusya Kotereva, Kendall McNamara, Paz Moran, Mia Pineault,
Katherine Salvador, Tatiana Frouge, Olivia Scherer,
Kaylee Drago, Tara Stanley, Isabelle Stein,
Caroline Rafael, Maria Francisco, Gianna Trombetto,
Rianne Chiarello and Sophia Fawcett.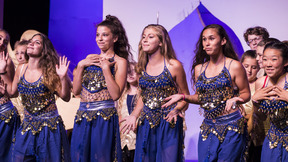 Harem Girls-
Hayden Rogers, Mila Kulian, Hannah McGuire,
Kayla Holmes, Jenna McManus, Molly Tarnowski,
Amanda Bothwell, Madison Flamme, Alyssa Suarez,
Heather Bothwell and Julia Buzzi.
Based on the iconic animated film, with an Academy
Award-winning score by Alan Menken, Howard Ashman and
Tim Rice, Disney's Aladdin JR. will send you soaring on a flying
carpet ride filled with romance and adventure.
Aladdin JR. follows the story of Aladdin, a well-intentioned
"street-rat", who finds himself in the wrong place at the wrong
time, and the determined and strong-willed Jasmine, daughter
of the Sultan, who is struggling with her father's demand for
her to marry a prince.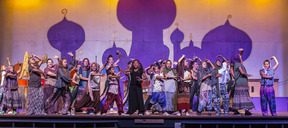 The show features classic songs from the movie such as
"Arabian Nights", "Why Me" "Friend Like Me" and
"A Whole New World".